barracuda message archiver
A complete and affordable email archiving solution, the Barracuda Message Archiver is designed to effectively index and preserve all emails, achieve legal and regulatory compliance needs, and make more efficient use of storage technology inside the IT organization.
Leveraging standard policies and seamless access to messages, email content is fully indexed and backed up to enable administrators, auditors and end users quick retrieval of any email message stored in an organization's email archive.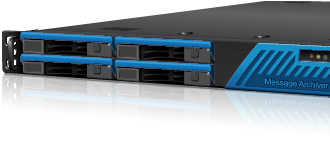 Key Features:
Compatible with industry standard email servers
Comprehensive archiving, search and retrieval, and reporting
Granular policy management for legal, regulatory and corporate compliance
Archives for internal or external via CIFS or iSCSI
Roles-based interface for users, auditors and IT manager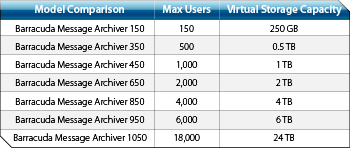 barracuda backup service
The Barracuda Backup Service is an affordable data backup solution, providing a full local data backup that is combined with a storage subscription to replicate data offsite. This approach provides the best of both worlds - onsite backups for fast restore times and secure, offsite storage for disaster recovery. Block level deduplication is applied inline to reduce traditional backup storage requirements by 20 to 50 times while also reducing backup windows and bandwidth requirements.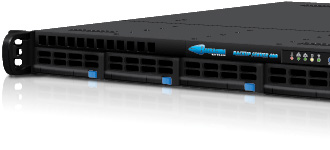 Key Features:
Offsite backup to 2 geographically separate locations
Secure data transfer to offsite data center
Redundant disk-based storage
Best-of-breed data retention policies
Single transfer from location to save bandwidth
Centralized Web interface for granular controls
Detailed, easy-to-use reports and usage graphs
Quick and easy restoration from Web interface
Direct FTPS data access with point in time restore